ST. MARYS — The USS Georgia is in dry dock undergoing an evaluation of damages caused when the Ohio-class submarine struck a buoy in the channel near Fernandina Beach, Fla.
Navy officials said the guided missile submarine struck buoy No. 23, located at the entrance to the channel leading to the boat's home port at Naval Submarine Base Kings Bay.
Lt. Lily Hinz, a public affairs officer with Submarine Group 10, said the investigation into the accident is ongoing. The boat is currently in dry dock at Kings Bay where it is undergoing an engineering assessment.
"It's the only way to assess the full damage," Hinz said.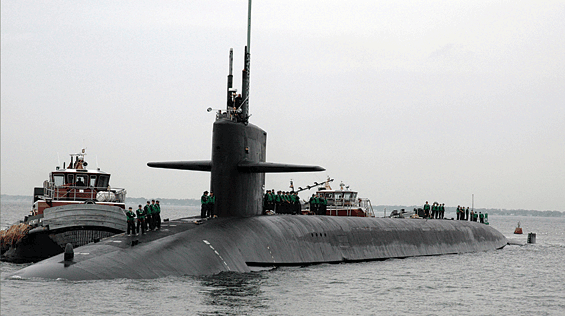 All the damages are to the boat's exterior and there was no water intrusion from the collision, she said.
The boat was able to make it to Kings Bay without assistance after the accident, which happened just before the Thanksgiving holiday weekend.
The Georgia is one of four Ohio-class submarines that were converted from ballistic missile subs to carry Tomahawk cruise missiles. The boats conduct clandestine missions in coastal areas across the world.
The Georgia was returning to Kings Bay after a long deployment overseas, where its missions are mostly classified. Unlike the ballistic missile submarines on base, which return every 70 days, the Georgia and another converted sub, USS Florida, remain deployed for up to a year. The Blue and Gold crews fly to Diego Garcia, a base in the Indian Ocean, to alternate serving aboard the boats.
"It was coming in for a brief stop," Hinz said.
The accident remains under investigation and no leadership has been removed from the boat as a result of the collision, Hinz said.
She described the accident as rare, which is why an investigation is being conducted.