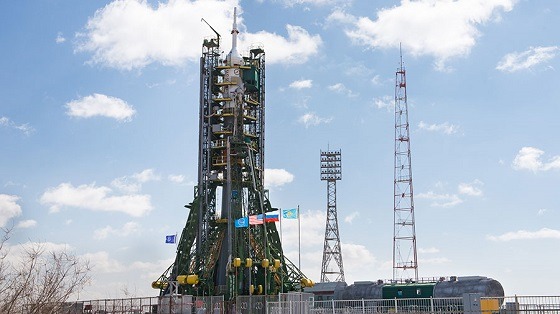 BAIKONUR, KAZAKHSTAN, March 18, 2016 — The Soyuz rocket that will carry three new crew members to the International Space Station Friday evening stands ready for launch in Kazakhstan. Meanwhile, the orbiting trio awaiting reinforcements is busy with medical science and preparations for upcoming cargo missions.
High winds at the Baikonur Cosmodrome delayed the raising of the Soyuz TMA-20M spacecraft into vertical position a few hours after its roll out Wednesday. Launch is scheduled for 5:26 p.m. EDT/9:26 p.m. UTC Friday. Expedition 47-48 crew members Jeff Williams, Alexey Ovchinin and Oleg Skripochka will arrive at their new home in space less than six hours later.
The three current residents onboard the orbital laboratory, Commander Tim Kopra and Flight Engineers Tim Peake and Yuri Malenchenko, continued their medical research to help scientists understand how living off the Earth affects the human body. The crew is also getting ready for a pair of cargo deliveries due soon from Orbital ATK and SpaceX.
Kopra and Peake were back at work today on the Ocular Health study scanning their eyes with an ultrasound and checking their blood pressure. Kopra also explored how microbes affect the human immune system in space and practiced the robotic capture of the Orbital ATK Cygnus spacecraft. Peake is helping engineers validate the technology that will control rovers on another planet from a spacecraft. Malenchenko researched how the digestive system adapts to microgravity and packed trash into the 61P resupply ship due to undock at the end of the month.
Orbital ATK will launch its Cygnus space freighter Tuesday at 11 p.m. EDT from Kennedy Space Center on a four-day trip to the space station. Cygnus will deliver almost 7,500 pounds of research gear, spacewalk hardware and crew supplies to the Expedition 47 crew.
Source: https://blogs.nasa.gov/spacestation/2016/03/17/soyuz-stands-ready-at-launch-pad-as-cargo-missions-line-up/